The Allergy Program at Glacier Ear, Nose and Throat, has been providing comprehensive specialty care throughout the Flathead Valley and surrounding areas since 1993.
Our Allergy program is under the direction of Dr. David Healy Jr. M.D., who is Fellowship trained in Allergy. Our goal is to provide medical care using evidence-based medicine, education, and patient-centered care to give people control of their health. Rest assured that you are receiving the finest quality medical care from professionals who have only your best interests in mind. Our efficient, knowledgeable, and kind staff will help you feel relaxed as we work together to improve your health.
The best way to treat your allergy symptoms is to schedule allergy testing to determine their exact cause.
Allergy Skin Testing
In order to begin immunotherapy (allergy shot therapy), the patient must be tested to determine their specific sensitivities of allergies. There are many methods used to test allergies. The Allergy Program at Glacier Ear, Nose and Throat Clinic uses Skin Endpoint Titration to determine allergies. This method is advantageous over other methods, as it identifies and quantifies (demonstrates the severity of) allergies. Once our physicians know how severe a patient's allergies are, the patient can be treated with allergy shots in a safe, progressive, and tolerable manner.
Skin Prick Testing
Skin tests are the preferred allergy test because they are safe, affordable and they provide accurate results.
How Does a Skin Test Procedure Work?
In prick testing, several drops of a solution containing the suspected allergen are placed on the surface of the skin. A needle is used to prick or scratch the skin where the drops are placed.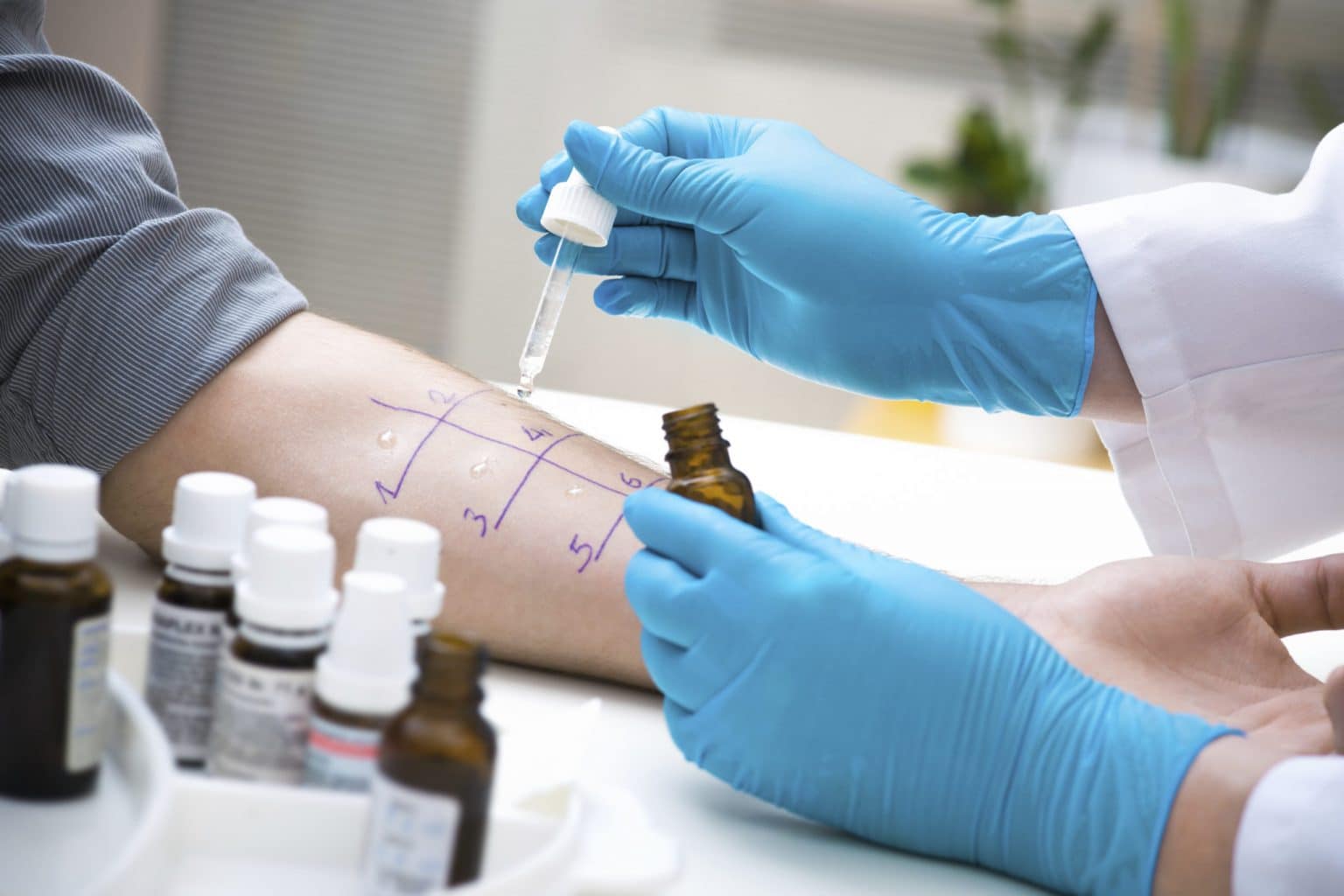 If your body is allergic to this substance, the immune system will respond. The result is swelling and redness on the skin.
How Fast Are the Results of a Skin Prick Test?
This allergy testing procedure is performed in-office and should take no longer than 20 to 40 minutes. Skin prick test results are available before you leave the doctor's office because skin prick tests are visual. With a prick test, an allergist can tell whether you are allergic to an allergen based on how your body responds.
Prick testing is safe and reliable. This test may cause minor discomfort, swelling or itching. It is most often used to test for allergies to pollen, mold, dust mites, pet dander and food.
Skin Prick Test vs. Patch Test
A patch test is more often used to identify allergens that cause skin rashes. Patch tests typically take several days to process and function differently. Where a skin prick test introduces a tiny amount of an allergen into the skin, a patch test holds a liquid containing the allergen on top of the skin using a specialized patch. After 48 hours, the patient can return to the allergist, who will then mark the test sites and a third appointment may occur another 48 hours later before final results can be determined.
Intradermal Test
An intradermal test is used when a skin prick test does not produce an allergic reaction. An intradermal wheal, or bleb, is injected directly under the top layer of skin. After 15 minutes, any reactions are measured and classified as either positive or negative.
Blood Testing for Allergies
A blood test measures how much of an allergen-specific antibody, called immunoglobulin E (IgE), is in your blood. The more allergen-specific IgE in your blood, the more likely you are to be allergic.
Sometimes individual circumstances may indicate that a blood test (sometimes known as RAST testing) may be used to determine a patient's allergies. Blood test help us establish allergies when Skin Endpoint Titration is not indicated. Your physician will determine which test is appropriate for you during your consultation.
Blood tests are typically used to confirm the results of a skin test; they may also be used instead of skin tests if a serious allergy makes skin testing unsafe.
When Is Blood Testing Preferred Over Skin Testing?
Some medications and conditions make blood testing preferable because blood testing doesn't expose a patient to allergens. Medicines on that list include antihistamines, steroids and antidepressants. People with life-threatening allergies, skin conditions, asthma or heart conditions may all be better candidates for a blood test.
Pulmonary Function Tests
Pulmonary function tests are used to determine how well your lungs are working. They are typically completed in addition to allergy tests. The three main tests are spirometry, plethysmography and diffusion capacity. Spirometry measures the amount of air you breathe in and out by breathing into a machine. Plethysmography measures your lung volume, or the amount of gas in your lungs, by having you stand in a small booth and breathe into a mouthpiece. The diffusion capacity test evaluates how well the small air sacs within your lungs work by having you breathe in certain gases and breathing out into a machine.
Call us for more information or to schedule an appointment.
Call Glacier Ear, Nose and Throat at (406) 752-8330 or Glacier Hearing Services (406) 752-1014 for more information or to schedule an appointment